Kedarnath Temple is a symbol of devotion, peace, and architectural genius, perched amidst the towering Himalayan hills. Located in Uttarakhand, India's Rudraprayag area, this esteemed temple is deeply ingrained in Hindu mythology and spirituality. Come with me as we set out to discover the fascinating realm of Kedarnath Temple.
Historical Significance Of Kedarnath Temple
There are old stories about the history of Kedarnath Temple. It is thought to have been constructed more than a millennium ago by the distinguished theologian and philosopher Adi Shankaracharya. The location honours Lord Shiva, one of the main Hindu deities, and is an important stop on the Chota Char Dham Yatra.
Location and Scenic Beauty
It is atop 11,755 feet of height above sea level in the Himalayas of Uttarakhand. The temple is in an amazing setting with the tranquilly of the Mandakini River, snow-capped hills in the background, and an abundance of flora all around it. Travellers frequently speak of the trip to this sacred location as a visual and spiritual feast.
Architecture and Design
The building of the Kedar is a wonder of traditional Indian workmanship. It was constructed in the North Indian style and is embellished with wood and stone decorations. Massive stone slabs are used to construct the pyramid-shaped building, which is decorated with elaborate carvings. The distinctive architecture of the Himalayan region is evidence of the old world's architectural brilliance.
Pilgrimage to Kedarnath Temple
This Himalayan site is more than simply a temple; it's a spiritual pilgrimage that puts one's commitment and fortitude to the test. The Kedar-Yatra, a pilgrimage to this sacred location, usually begins in April and lasts until November.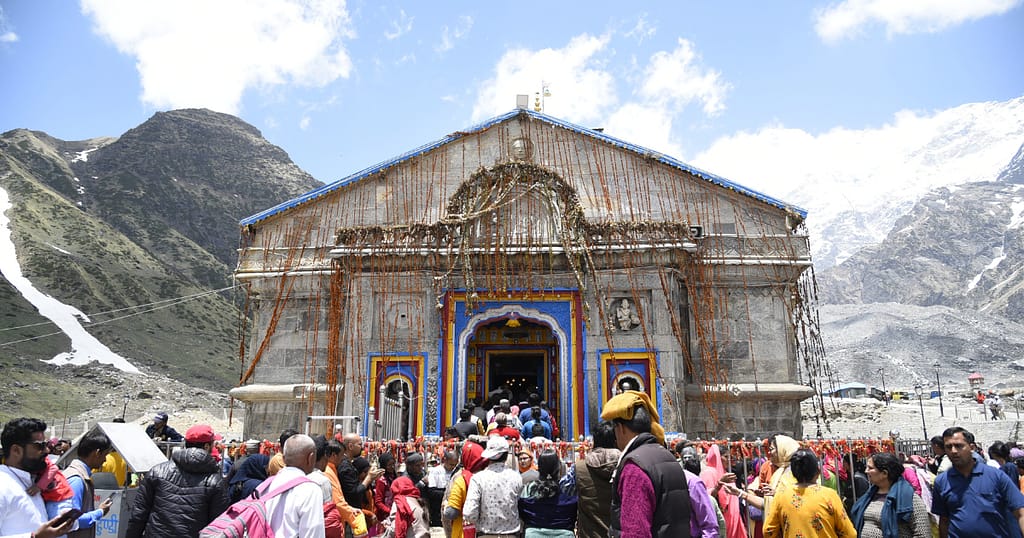 The Yatra
The Yatra travels 16 km or more by foot from Gaurikund to this location. Pilgrims have to make their way across rocky areas, precipitous drops, and occasionally inclement weather. But all along the voyage, there is a spiritual atmosphere and the sound of "Om Namah Shivaya" chanting.
Spiritual Importance
It is a hallowed location where pious Hindus go to ask for blessings and divine intervention. It is said that Lord Shiva, the slayer of evil, hears his devotees' prayers in this place. Experienced once in a lifetime, the Himalayan environment exudes a mystical aura that is undeniable.
Challenges Faced
There are difficulties in the Kedar Yatra. Threats may come from severe weather, landslides, and erratic topography. But pilgrims are safe because they are well-prepared and directed by the local authorities.
Legends and Myths
The sacred site is rife with legend. The Hindu legend of Lord Shiva is one of the most well-known.
Shiva and Kedarnath
According to legend, the Pandavas sought Lord Shiva's blessings to atone for their misdeeds following the Kurukshetra War. Lord Shiva retaliated by changing into a bull and hiding in Kedar Place as a hump. It is said that Lord Shiva lived exactly where the temple sits.
Adi Shankaracharya
The renowned scholar Adi Shankaracharya is regarded for having brought the Kedarnath Temple back to life. His impact on the history and ongoing life of the location is noteworthy. He instituted a "mathas" system to oversee the Kedar's operations.
Preservation and Restoration
Over the years, this sacred site has had its fair share of natural calamities; nonetheless, its tenacity and the devotedness of its adherents have guaranteed its continued existence.
Natural Disasters
The authorities and devotees' unshakable trust has allowed the temple to be rebuilt time and time again despite earthquakes, floods, and avalanches.
Reconstruction Efforts
Thanks to local efforts and government initiatives, the neighbourhood and its surrounds have undergone a thorough restoration in recent years. The area has been conserved, and the entire infrastructure has been improved, thanks to the rehabilitation work.
Kedarnath in Popular Culture
It has entered popular culture via music, movies, and novels. Because of its mysticism and beauty, it has fascinated and inspired many artists, writers, and filmmakers.
Tourism and Beyond
The attraction of Kedarnath goes beyond its religious importance. The area has changed to meet the increasing number of visitors.
Accommodation Options
Around this historic, sacred temple, there are several hotel choices to suit a variety of budgets. Travellers may pick from a variety of lodging options, from cosy hotels to basic lodges.
Nearby Attractions
This serene location is worth exploring rather than only being a place of pilgrimage. For those who love the outdoors, the natural beauty of the surrounding area, which includes Chorabari Tal and Vasuki Tal, provides a peaceful haven.
The Journey Within
Travelling to this sacred location in Uttarakhand is an inward journey as much as a physical one.
Personal Experiences
Many pilgrims talk about the significant influence it has had on their life. It's a life-changing event because of the spiritual awakening, the amazing surroundings, and the sense of accomplishment.
Conclusion
Beyond only a site of worship, Kedarnath Temple is a symbol of human dedication, fortitude, and the divine. Its breathtaking architecture, spiritual importance, and rich history continue to entice pilgrims and visitors alike, leaving them with lifelong memories.