Together with each other, you and your pets can enjoy the experience of travelling with your beloved friends and make priceless memories. To assure their security, ease, and enjoyment, it also takes considerable planning and consideration. In this thorough guide, we'll go over the most important advice for pet-friendly destinations where you may have amazing adventures with your pet.
Tips for Traveling with Pets
1. Prepare Your Pet for Travel
It's critical to make sure your pet is prepared for the travel before setting out on your journey:
Go to the vet: To ensure that your pet is healthy and up to date on vaccines, schedule a checkup appointment with your veterinarian. Obtain a health certificate if it's necessary for the place you're going.
Identification and microchipping: Make sure your pet has a collar tag with your contact information so it may be properly identified. Think about microchipping your pet as an extra measure of safety.
Medication and Essentials: Bring your pet's regular food, water, favourite toys, and any essential prescriptions.
2. Choose Pet-Friendly Accommodations
Your pet-friendly vacation's amenities can make or ruin it:
Hotels That Accept Pets: Look for lodgings that accept pets. Many offer facilities like pet beds and dishes as well as specially designated pet-friendly rooms.
Consider renting a vacation home or cabin that accepts pets. These frequently give your pet additional room and a cosy ambiance.
Camping: If you enjoy being outside, this is a fantastic alternative. Although many campgrounds welcome pets, be sure to review their policies.
3. Plan Your Route
Consider your pet's needs while choosing your route when travelling:
Rest pauses: Plan frequent rest pauses for brief walks and restroom breaks. Plan out any rest stops or parks that allow pets.
Car Security: To keep your pet safe inside the vehicle, use a barrier, seatbelt, or carrier. Never let them go amok while you're driving.
4. Pets and Air Travel
When travelling by air with your pet, abide by these rules:
Choose a Pet-Friendly Airline: Look into each airline's pet policies and pick one that takes your pet's breed and size into consideration.
Pet Carrier: Use a pet carrier that is comfortable and has been approved by the airline.
Verify the rules: Verify the prerequisites for bringing a pet into the country, such as quarantine and documentation.
5. Be Mindful of Your Pet's Comfort
Make sure your pet is comfortable on the trip:
Avoid travelling when it's really hot or cold because it could be harmful to your pet.
Hydration: Use spill-proof dishes and periodically provide new water. Don't give your pet a big dinner shortly before a trip.
Comfort Stops: Provide plenty of opportunities for your pet to get some fresh air, explore, and go potty.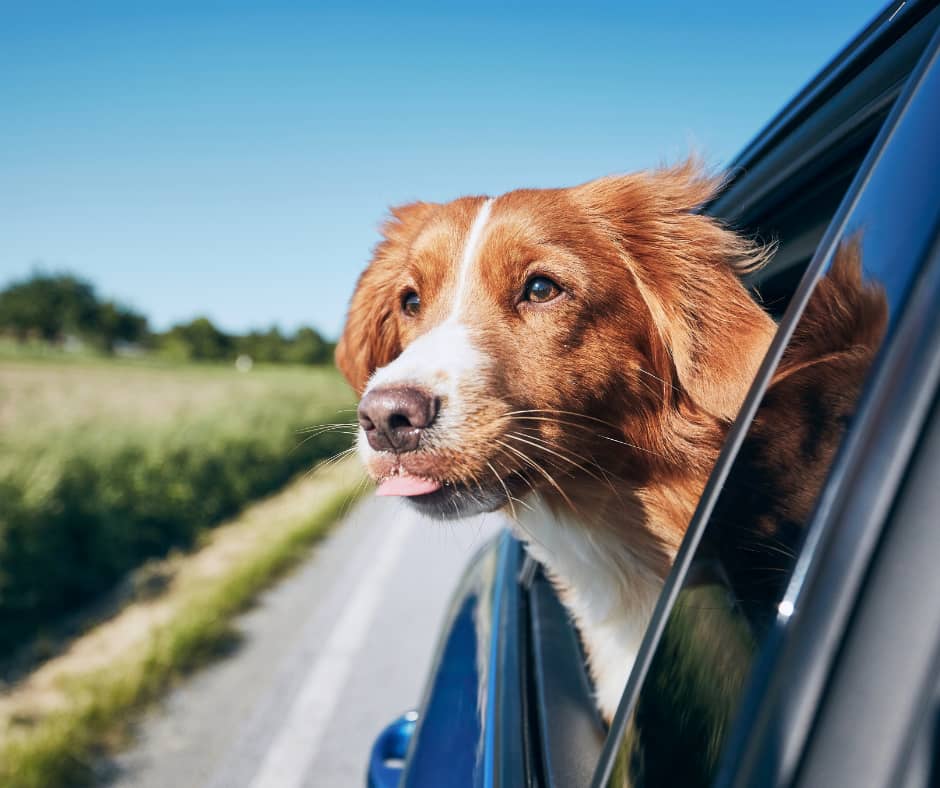 Pet-Friendly Destinations
With these helpful hints in hand, let's look at some amazing pet-friendly vacation spots for your upcoming adventure:
1. Asheville, North Carolina, USA
Asheville, North Carolina, offers the ideal fusion of outdoor activities and a thriving arts scene. It is located in the Blue Ridge Mountains. The numerous dog-friendly hiking trails, parks, and even some pet-friendly breweries will be enjoyed by your four-legged buddy.
2. Vancouver, Canada
Pets are welcome in Vancouver, which has several parks, beaches, and off-leash places. Particularly Stanley Park offers lovely hiking and cityscape views.
3. Amsterdam, Netherlands
The city of Amsterdam is renowned for being pet-friendly. Numerous parks and cafes allow dogs. The city's charming streets and canals are perfect for a stroll with your pet.
4. The Lake District in the UK
England's Lake District is a paradise for animal lovers and their pets. There are lots of pet-friendly lodging options, and you can both enjoy the breathtaking scenery.
5. New Zealand
New Zealand is well known for its pet-friendly policies and breathtaking scenery. On your trip, take advantage of hikes, beaches, and vineyards that accept pets.
6. Tokyo, Japan
Unexpectedly, there are many pet-friendly cafes, parks, and hotels in Tokyo that welcome your four-legged buddy. Together, you can discover the distinctive culture of the city.
7. Bali, Indonesia
Bali has lots of pet-friendly beaches and lodging options. In this tropical haven, your pet can join you in taking in the rays and the water.
8. Sydney, Australia
With several parks and beaches where your pet can run free, Sydney is a pet-friendly city. Dog owners love to take their dogs on the beach stroll from Bondi to Coogee.
9. Costa Rica
A lot of lodgings and tours in Costa Rica are pet-friendly, making it the ideal destination for outdoor adventurers. With your animal companion, visit beaches, volcanoes, and rain forests.
10. Cape Town, South Africa
There are many pet-friendly beaches, parks, and even vineyards in Cape Town. Take in the breathtaking views of Table Mountain as your pet explores the picturesque surroundings.
Conclusion
A rewarding experience, travelling with loving pets can deepen your relationship as you discover new areas. You may guarantee a secure and fun experience for you and your animal partner by preparing your pet for the trip and selecting pet-friendly locations. To ensure a stress-free trip, take sure to familiarise yourself with and abide by any destination's particular pet policies and guidelines. You and your pet may travel tremendous distances and make priceless experiences together with the appropriate preparation.